Eye Dropper for RGB or CYMK
One of the most used tools I use is this cool little eye dropper.  The best part of this tool is it is free.  I can not tell you how many times I would take a screen shot of something, open it up in Photoshop, and then use my eye dropper tool.  It worked, but the overall process was so time-consuming.  I started looking around on the Internet and finally found the solution to my problem.
If you are working in CSS, Photoshop, Html, or anything that requires color codes, then this tool is for you.  Basically anything that is displayed on your screen we can quickly identify its color code at the click of a mouse.  Literally.
Click Here to Download this Free Eye Dropper
The screen shot above shows, the eye dropper read to go.  All you need to do is click it, hold down that click and move it to whatever color your trying to identify.  Anywhere on your screen.
An Eye Dropper with Many Options to Choose From
This is such a simple yet powerful tool.  What amazed me was all the options you have to choose from.  You can choose to automatically have the eye dropper copy the color code into your clipboard.  This is especially useful if you are working in CSS.  You can change the format that it uses to identify the color.  In other words, you might not want it to have the # sign in front of the code.  This will definitely be the case if you are bringing your colors into Photoshop.
Click Here to Download this Free Eye Dropper
Instant Eye Dropper Identifies Colors with Ease
As you can see from screen shot above, you can choose your color format.  For the most part you'll be working in RGB or HTML colors.  However other options are there should you need them.  I'm going to show you one last screen shot, and that is the eye dropper actually identifying a color.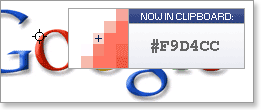 So do yourself a favor, and grab this free little eye dropper.  As always I would love to hear your comments about the instant eye dropper.